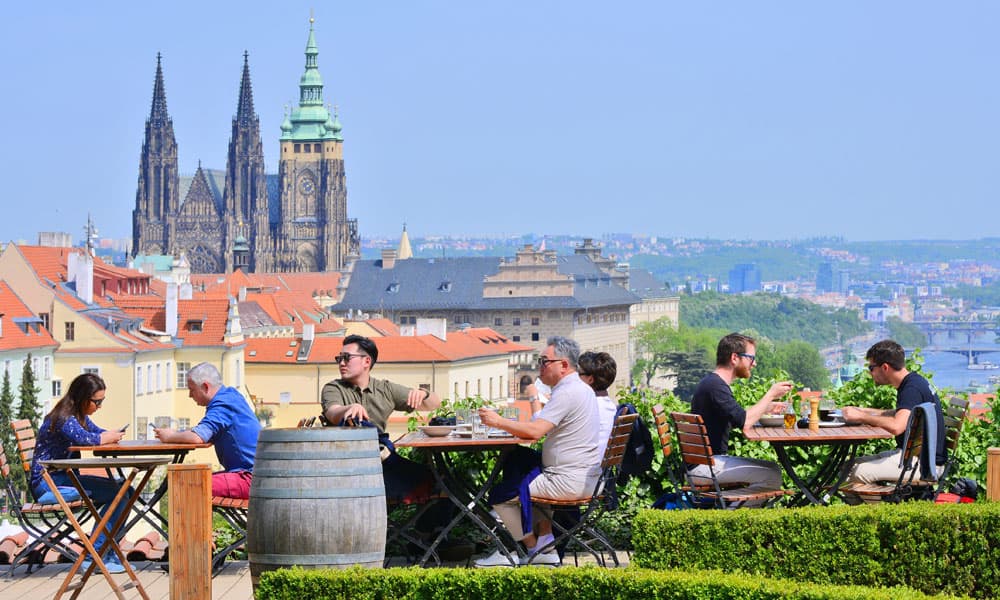 Prague is known as one of the most beautiful cities in the world—it's like you stepped inside a fairytale. It's steeped in history, the beer is amazing, the architecture is world-class, and the prices are affordable. In this Prague travel price guide, we've outlined the estimated travel expenses for food, accommodation, attractions, alcohol, and other common expenses to help you budget your trip to Prague.
This Prague Price Guide is part of our City Price Guide Series where we break down the travel costs of Europe's most popular cities.
Average Daily Cost For Visiting Prague

It costs around $45-$65 per day to visit Prague comfortably as a budget traveler.
If you want to upgrade your accommodations, add another $50-$90 per night depending on your desired level of accommodation. These prices also don't include big nights out at the bar/pub, club entry fees, souvenir/clothing shopping, tours, random purchases, nicer food, etc.
NOTE: We've converted prices into US Dollars for this guide because the Czech crown can be difficult to convert on the fly. We used XE.com to get the current exchange rate.
Daily Cost of Budget Travel in Prague: $55 USD
Attractions: $7 (one paid attraction + any free sights)
Food: $22

Breakfast: $3
Lunch: $6
Dinner: $10
Treat (dessert/beer/wine): $1.50

Transportation: $2
Accommodation (hostel): $26
Daily Cost of Frugal Travel in Prague: $42 USD
Attractions: $4 (free walking tour + visit one of the free sights)
Food: $17

Breakfast: $2
Lunch: $5 (ethnic street food, takeaway shop fare, or a sausage)
Dinner: $9 (make your own meal in the hostel or grab something cheap)
Beer: $1 (chill out at the park and have a cold one)

Transportation: $1
Accommodation (cheap hostel bed): $19
---
Attraction and Museum Prices in Prague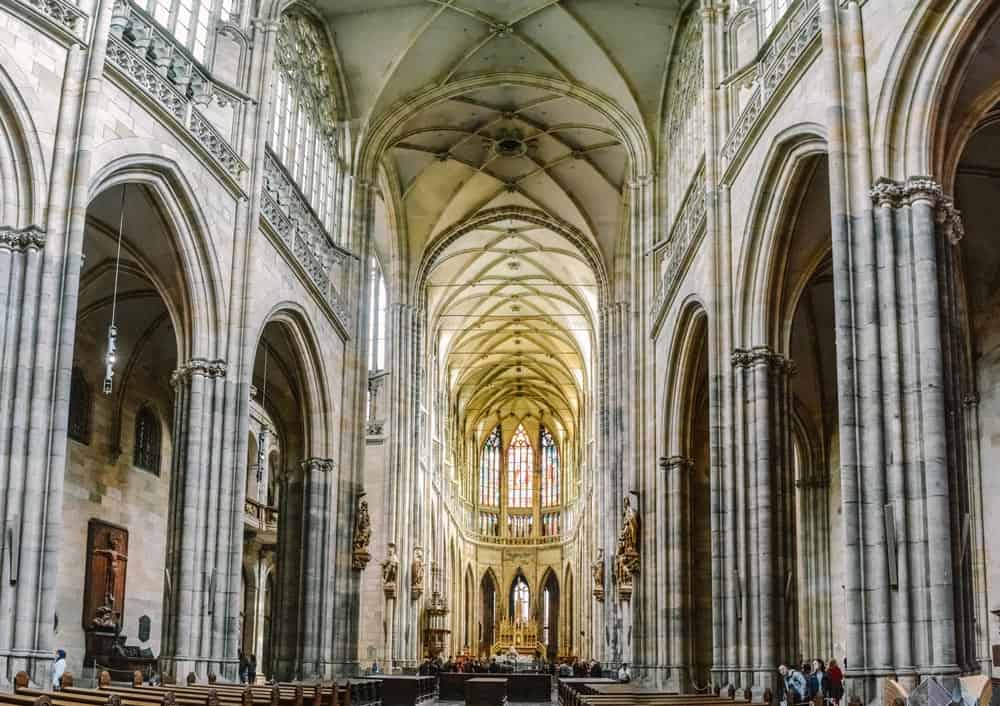 Part of Prague's beauty is simply strolling the streets and admiring the architecture — which helps keep your costs down. Many of the main sights don't charge admission. However, while the main (and arguably best) parts of Prague are free, some areas will cost you a bit. Check out our Prague Travel Guide to get an in-depth look at what to do in Prague.
---
Food Prices in Prague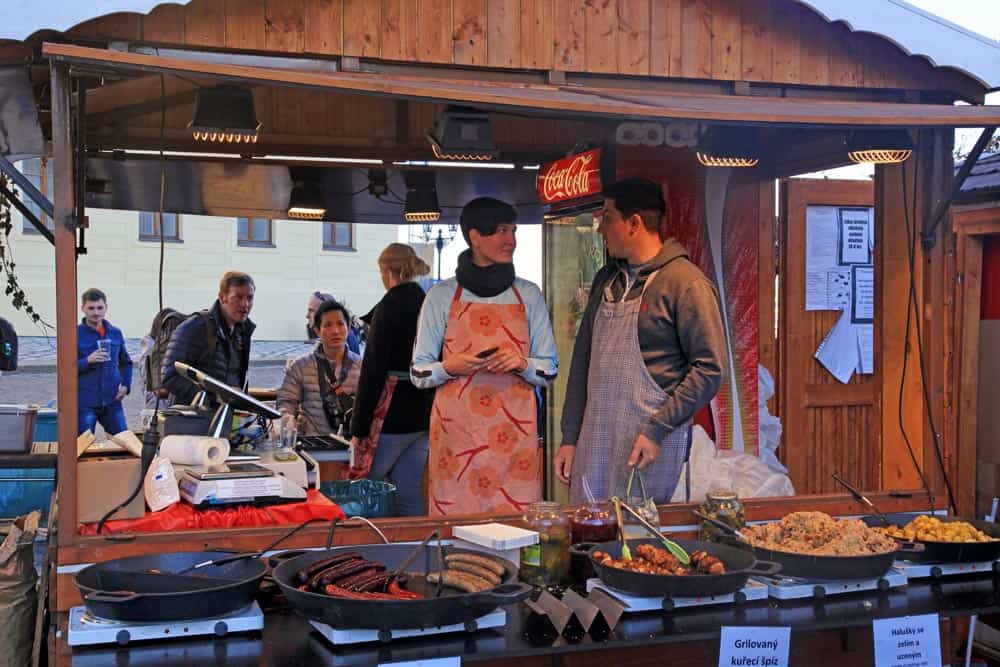 Traditional Czech cuisine tends to be fairly heavy, but it's filling and affordable—perfect for the penny-pinching backpacker. And once you're finished with your meal, you can wash it down with an amazing Czech beer (which can also be cheap). Avoid the tourist areas as they're filled with overpriced and low-quality restaurants. Do a bit of research online before you head out to ensure you get a quality meal at a good price. Read more of our strategies for Eating and Drinking in Europe on a Budget.
Budget Breakfast Prices in Prague: $3-$5
Many hostels will offer a free, simple breakfast that normally consists of cereal, bread/croissant, and maybe milk, coffee, tea, or juice.
A basic breakfast at a café will normally consist of bread, jam, honey, bacon, cheese, yogurt, and fruit. Expect to pay $4-$5.
You can also find plenty of budget-friendly options at the bakery or grocery store.
Budget-Friendly Breakfast Spots:
Budget Lunch Prices in Prague: $6-$12
Super budget travelers can make a super cheap lunch of bread, cheese, lunch meat, and fruit from any grocery store for a few dollars.
Pubs and taverns offer affordable fare for lunch (or dinner). For a burger, expect to pay around $5-$8.
A traditional goulash will cost about $5-$7.
A traditional open-faced sandwich will cost $2-$4.
A sausage from a street sausage stand will cost about $3.50.
Takeaway meals (like kebabs with fries) or similar dishes from a takeaway shop will cost about $3-$4.
A combo meal at McDonald's (or similar) will cost about $6.
Budget Dinner Prices in Prague: $8-$16
Budget travelers will want to look at the many international restaurants — a bowl of Pho will be about $5.
An average traditional Czech meal for a non-touristy restaurant will cost $7-$12.
A heartier traditional pork schnitzel with sides from a sit-down restaurant costs $12-$14.
Many of the options from the Budget Lunch section above also apply to dinner.
Budget-Friendly Lunch and Dinner Spots:
Drink and Alcohol Prices in Prague
A pint of standard beer out: $1.00-$2.00
Pint of beer from a grocery store: $.65
Bottle of (drinkable) wine from the grocery store: $5
Espresso: $1.60
---
Transportation Prices in Prague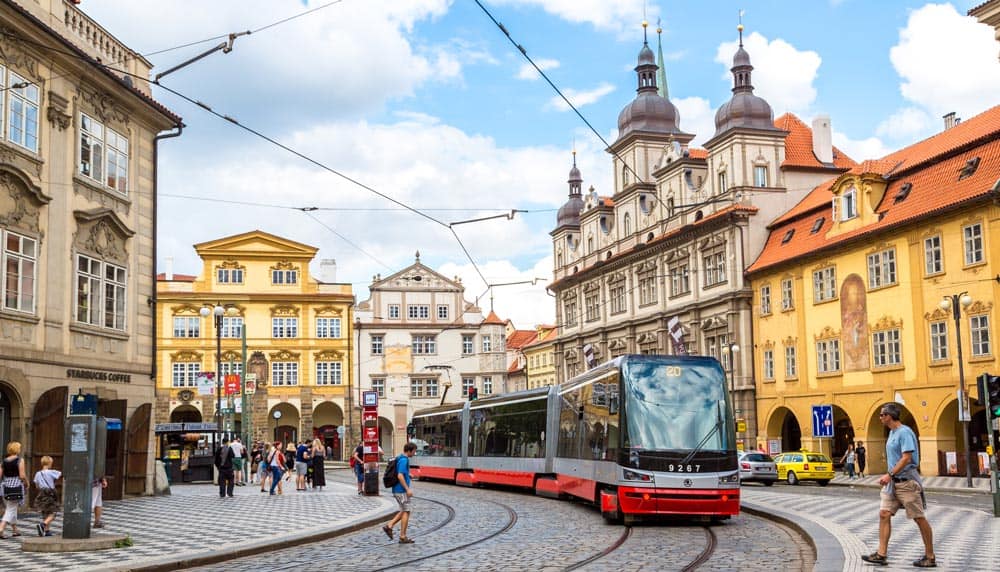 Prague has a very good network of trams, buses, and subways. They're all affordable but be sure you always validate your ticket because they do check tickets often (and the fine is hefty). All forms of public transport use the same ticket.
Short-term tickets are sold at ticket vending machines (in English), ticket offices located at most metro stations, newsstands, and tourist info centers.
30-minute ticket: $1.40
90-minute ticket: $1.80
24-hour pass: $5.45
3-day pass (72 hours): $15
Ticket (via Bus + Subway) Between Airport and City: $4
Taxi to Airport: $30-$38+
---
Hostel, Hotel, & Rental Apartment Prices in Prague
Prague has plenty of cheap hostels but you want to book early to ensure you get the best deal—especially on weekends during the summer when people arrive to party. There are also a good number of very cheap hotels (they'll probably be fairly bare-bones) or you can spend a little extra if you want something more comfortable. Rental apartments can also be a good option for longer stays or if you're with a large group.
Hostel Prices in Prague: $17-$38/Night
The nightly price of a well-rated hostel in Prague starts around $22-$30/night per person—although many hostels raise their prices on the weekend (remember, these prices are for a bed in a shared dorm room). Private rooms start are around $45-$90 per night. Check out the latest hostel prices at Hostelworld since prices are always fluctuating.
The Top-Rated Hostels in Prague:
Check out The Savvy Backpacker's guide to The Best Hostels in Prague to get a more in-depth look at the city's various hostel options.
Budget Hotel Prices in Prague: $65-$140/Night
At the low end, you can expect very basic accommodation. Additionally, the cheaper places ($30/night) tend to be a few miles outside the city center — which can be a bit of a hassle. Cheap hotels near the center of the city will cost around $65-$100 per night.
We suggest checking out Booking.com to see hotel prices for your dates since they're always changing.
Rental Apartment Prices in Prague: $70-$140/NIGHT
Prague has quite a few vacation rental apartments. These rentals can be a good option for large groups or travelers who want a little more space (and a kitchen). On the other hand, there are a few downsides to rental apartments — like limited/inconvenient check-in processes and extra cleaning fees/service charges (which can make short stays quite a bit more expensive). For short stays, we prefer hotels/hostels but rental apartments can be a nice option for longer stays. Airbnb is always popular but you can sometimes find cheaper/better options on our list of Airbnb Alternatives.
---
Learn More About Visiting Europe On A Budget
Check out our guide on How Much It Costs To Backpack Europe to learn more about budgeting your entire trip (including many more city price guides).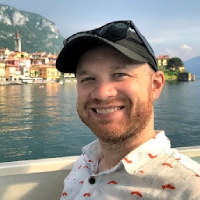 Latest posts by James Feess
(see all)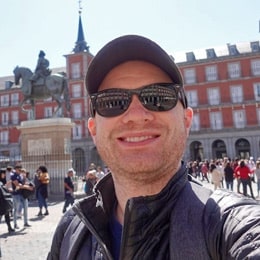 No Funny Business
The Savvy Backpacker is reader-supported. That means when you buy products/services through links on the site, I may earn an affiliate commission—it doesn't cost you anything extra and it helps support the site.
Thanks For Reading! — James
Questions? Learn more about our Strict Advertising Policy and How To Support Us.