Venice is easily one of the most magical cities in Europe; it's also one of the most tourist-dense. You just have to accept that you're going to fight crowds. However, a HUGE majority of tourists come in for the day and leave at night, so stay overnight and explore the streets once everyone has left.
It's also expensive. You have to truly seek out the good food deals or you're going to pay a lot for low quality junk sold to tourists. Accommodation is also a killer, so if you're on a super tight budget you're going to have to sleep outside of Venice.
This article is part of our City Price Guide Series — Click here to see all our city price guides.
Average Daily Cost for Visiting Venice
These prices are based on what you'll need to visit the city comfortably — they don't include things like big nights out at the bar/pub, club entry fees, souvenir/clothing shopping, tours, random purchases, nicer food, etc. Don't forget to budget extra for those "non-essentials."
Daily Cost of Budget Travel in Venice: €63 (Approx. $70)
Attractions: €10 (one paid attraction + any free sights)
Food: €19

Breakfast: €2
Lunch: €5
Dinner: €9
Treat (dessert/beer/wine): €2

Transportation: €0
Accommodation (Hostel): €34
Daily Cost of Frugal Travel in Venice: €50 (Approx. $53)
Attractions: €5 (free walking tour + visit one of the free sights)
Food: €14

Breakfast: €0 (free hostel breakfast)
Lunch: €5 (street food or takeaway shop fare)
Dinner: €7 (make your own meal in the hostel or grab something cheap)
Beer: €1.50 (chill out at the park and have a cold one)

Transportation: €0 (walk)
Accommodation (Cheap Hostel): €30 
Venice Attraction and Museum Prices
The true joy of Venice is simply walking around the city. You take in a museum or two, but in this city it's totally fine to just take in the scenery.
St. Mark's Square Museums (Doge's Palace, Museo Correr, Museo Archeologico Nazionale, and Monumental Rooms of the Biblioteca Nzionale Marciana): €18
The Grand Canal: Free (but boat tours/gondolas cost extra)
Basilica dei Frari: €3
Peggy Guggenheim Collection: €15
Church of Santa Maria: Free
Venice Natural History Museum: €8
Walking Tours: Free-€50
Kayak Canal Tour: €50/person (kayak), €80-€100 40-minute, €100
Gondola Ride: €80/person (day), €100/person (around sunset).
Venice Food Prices
You'll have to actively seek out budget restaurants because food is fairly expensive — so, if you're not careful, it's easy to spend way more than you probably want.
Venetian cuisine relies heavily on polenta, seafood, and tomato sauces – quite different from northern Italian cuisine. Baccala' Mantecata, or salted cod, is one of the most famous Venice dishes; it's widely available at local restaurants. Also look for marinated sardines (sarde in saor) and risi i bisi (fresh rice and green beans) as other local staples.
Budget Breakfast: Free – €4
Many hostels will offer a free simple breakfast that normally consists of cereal, bread/croissant, and maybe milk, coffee, tea, or juice (some hostels will offer more and some less). Hotel breakfasts tend to be overpriced, so skip those in most cases.
Caffe del Doge (Duke's Café) has coffee and pastries, €3
Marchini Time, another local café, offers cappuccino, espresso, and other cheap breakfast options: €3
Budget Lunch: €3.50–€7
Super budget travelers can make a super cheap lunch of bread, cheese, and fruit from any grocery store for a few euros.
Look for Ciccheti, or tapas: served all day, and inexpensive (€1.50-€4/plate).
Local pizza is another budget option that will cost €3-€5 (Antico Forno especially recommended).
Street food, including crepes, hot dogs, etc. run around €2.75-€5.
Budget Dinner: €4–€10
Pretty much all the options from the 'Budget Lunch' section above also apply for dinner.
Again, Venetian tapas – ciccheti – is a budget way to sample the local foods.
Small seafood and pasta establishments: €4-€8 (especially recommended is Fried Land, which makes fresh pasta and fried seafood for sit-down or takeaway)
Panini stands or walk-ups have cheap sandwich takeaways: €3.50-€5 (look for Panini Lampo!)
Read more of our strategies for Eating and Drinking in Europe on a Budget.
Drinks and Alcohol
Beer at a bar or restaurant: €3.50-€5
At a grocery, beer runs about €1.75 and a bottle of wine about €4.
Venice Transportation Prices
Venice's transit system is administered by ACTV and consists of buses and waterbuses. Vaporetti are waterbuses and ferries used for public transportation around the city's Grand Canal. Private water taxis can also be hired, at a much higher cost, for moving around the city.
75 minutes of water services: €7.50
Ferry crossing: €5.00
ACTV offers travel cards for visitors for unlimited Venice travel:
1-day: €20
2-day: €30
3-day: €40
7-day: €60
Additionally, for €6 (one-way) or €12 (round-trip), visitors can add transit to and from the Marco Polo Airport.
Airport transit from city center (bus, taxi):
One-way, via bus or aerobus: €8
One-way, via aerobus and water service: €14
Land taxi from airport to Venice city: €45
AirportLink, a shared water taxi: €27/person, minimum of two people
Private water taxi to Venice: €80-120
Venice Hostel/Hotel Accommodation Prices
Venice is a killer when it comes to accommodation, especially in the summer. There aren't many hostels, so prices are constantly high and the quality isn't great. And in the summer it can be hard to find a place since there are so many visitors. Hotels and rental apartments aren't much better.
Hostels: €30-€48  (bed in a shared dorm room)
You should budget about 32€/night per person for a decent hostel — although many hostels raise their prices on the weekend. Remember, these prices are for a bed in a shared dorm room. If you want a private room, expect to pay €50-€90 total (for two people).
We book our hostels through Hostel World.
Budget Hotels: €70-€90 (€150-€180+ if you want to be on the island)
A decent budget hotel that is in the city center will cost around €150+/night. You can find cheaper hotels if you want to stay farther away from the island. 
Rental Apartment (Airbnb): €90-€140/night
From my experience, rental apartments (via Airbnb) tend to be much bigger and much nicer than similarly priced hotel rooms. Plus, you'll get a kitchen so you can save more money by cooking your own meals — click here to get $30 off your first stay.
There are quite a few nice Airbnb options available in Venice — you should be able to find a highly rated studio or 1-bedroom for around €100-€120/night, but I've seen some as cheap as €85/night. If you want to rent a room in someone's place, expect to pay around €45-€75/night.
Plus, if you use this link you'll get $30 off your first stay.
More City Price Guides
We have even more city price guides — click here to check them out!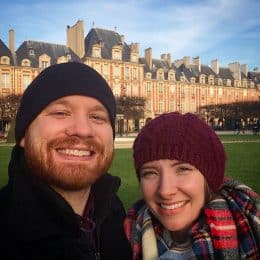 No Funny Business
We want to be fully transparent that this post may contain affiliate links. That means we receive a small commission if you make a purchase after clicking the link — it doesn't cost you anything extra and it helps support the site.
Thanks For The Support! — Susan and James
Questions? Learn more about our Strict Advertising Policy and How To Support Us.