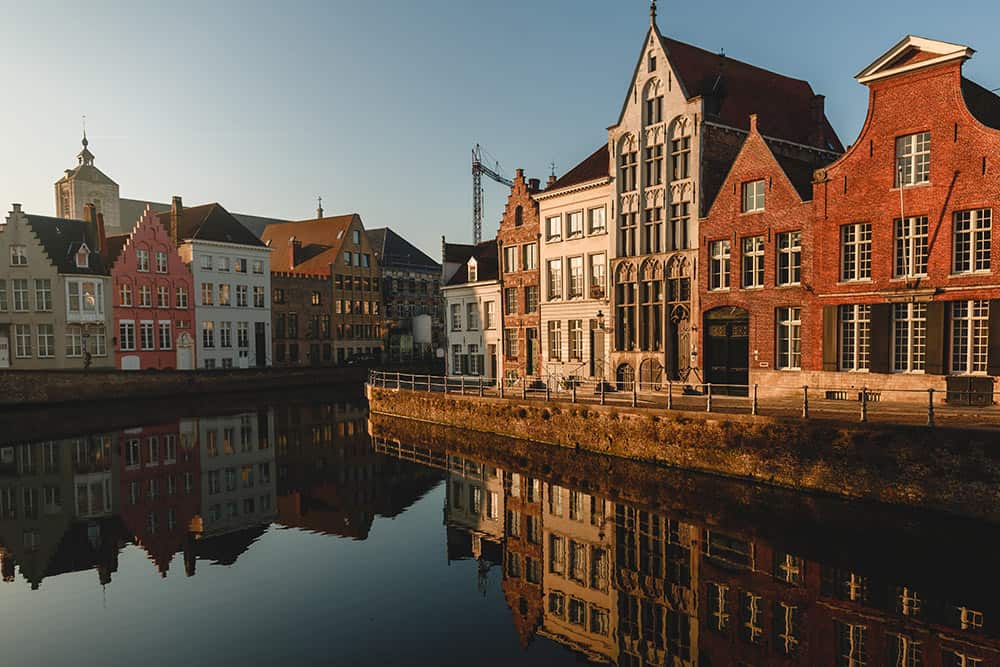 Bruges is a small village that has been frozen in time for hundreds of years. It's certainly one of the most charming places to visit in Europe — and that's why people flock there. But, despite the crowds, Bruges' canals and gorgeous medieval Flemish architecture make the city well worth the visit. Since Bruges is a "touristy" destination the prices are a bit higher than what you'll find in the rest of Belgium — most notably food and somewhat on accommodation.
And if the crowds get to be too much, that's the perfect excuse to stop into a pub to sample a handful of Belgium's world famous beers (hint: look for the beer made by Trappist monks). In this guide, we'll not only break down how much you'll spend on these delicious beers, but we'll cover how much it costs to visit Bruges.
This article is part of our City Price Guide Series — Click here to see all our Europe City Price Guides.
Average Daily Cost For Visiting Bruges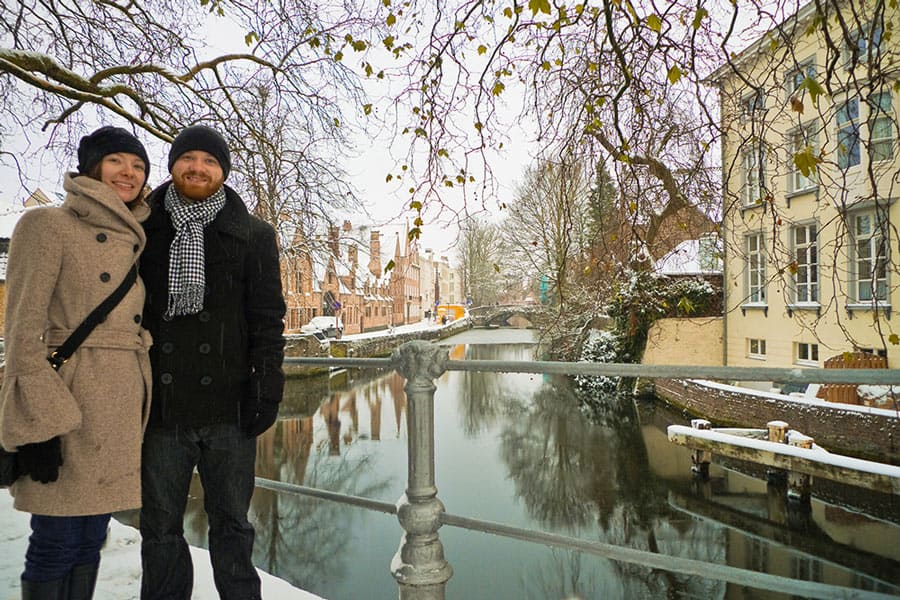 These prices are based on what you'll need to visit the city comfortably on a budget — they don't include things like big nights out at the bar/pub, club entry fees, souvenir/clothing shopping, tours, random purchases, nicer food, bail money, etc. Don't forget to budget extra for those "non-essentials."
Daily Cost of Budget Travel in Bruges: €63 (Approx. $72)
Attractions: €10 (one paid attraction + any free sights)
Food: €31

Breakfast: €4
Lunch: €7.50
Dinner: €16
Treat (dessert/beer/wine): €3.50

Transportation: €0
Accommodation (hostel): €23
Daily Cost of Frugal Travel in Bruges: €37 (Approx. $45)
Attractions: €5 (free walking tour + visit one of the free sights)
Food: €13

Breakfast: €0 (free hostel breakfast)
Lunch: €5 (ethnic street food, takeaway shop fare, or similar)
Dinner: €6 (make your own meal in the hostel or grab something cheap)
Beer (pint): €2

Transportation: €0 (the city is very walkable)
Accommodation: €19 (cheap hostel bed)
---
Bruges Attraction and Museum Prices
Bruges is famous for its charming canals, cobbled streets, and medieval buildings, so most visitors spend most of their time happily wandering the streets. Most of the museums and other sights are reasonably priced, and you can save a little money with a Bruges City Card (assuming you want to visit a few attractions). Visit Official Bruges Tourism Page for more information.
Basilica of the Holy Blood: free (holy blood only displayed at certain times), €2 for museum/treasury
De Halve Maan Brewery: €10-€19 (includes one beer)
Belfry: €12 to climb to the top
Stadhuis (City Hall): €4
Groeninge Museum: €12
Chocolate Museum: €8
Fries Museum: €7
Canal boat tour: €8
Flanders Fields Battlefield (day-trip): €45-€75
Walking tour: Free (but you should tip the guides) or €12–€35 (for paid tours)
Bike tour: €25-€28
---
Bruges Food Prices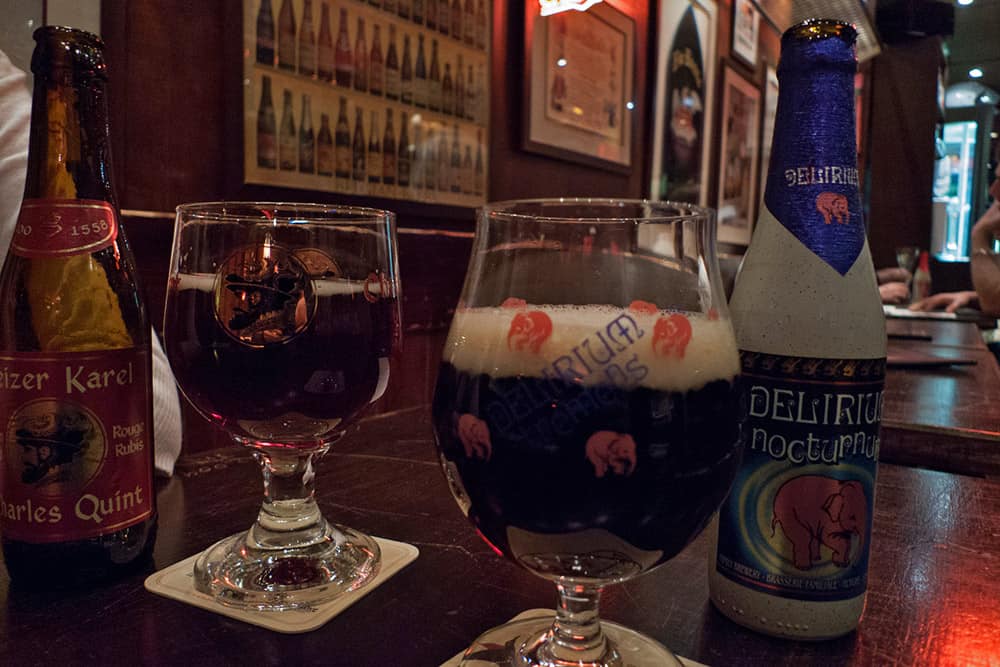 Bruges is a touristy town so expect to pay a premium for food in the city center. That said, you can still find quality food at reasonable prices by wandering a few blocks away from the tourist zone.
Belgium is also world famous for its beer so spend some time searching for unique Belgian brews — you won't have to look very hard. Belgium is also famous for chocolate so be sure to indulge yourself.
Budget Breakfast: Free – €7
Many hostels will offer a free simple breakfast that normally consists of cereal, bread/croissant, and maybe milk, coffee, tea, or juice (some hostels will offer more and some less).
A typical Bruges breakfast consists of coffee and some sort of bread/pastry (usually with cheese). Expect to pay around €2-€4 at a bakery, or check out the HEMA department store's cafeteria for their €1 coffee & croissant special.
A Few Budget Breakfast Ideas
Budget Lunch: €5-€10
Super budget travelers can make a cheap lunch of bread, cheese, and fruit from any grocery store for a few dollars.
HEMA also has some good lunch options at reasonable prices (soups, pasta, sandwiches). Expect to pay €5-€8.
Cheap takeaway meals like a kebab with fries will cost about €5.
Lunch at a restaurant/cafe runs around €8-€10.
Budget Dinner: €15-€25
Mussels & fries at a decent restaurant will cost €20-€25.
You should be able to find dinner at a restaurant in a less touristy part of town for €15-€20.
Many of the options from the Budget Lunch section above also apply for dinner.
A Few Budget Lunch and Dinner Restaurant Ideas:
Drinks, Alcohol, and Snacks
A pint of standard beer out: €3 but some specialty Trappist beers can be €5-€8.
Pint of beer from a grocery store: €1
Bottle of (drinkable) wine from the grocery store: €6
Espresso: €1
Waffle (from a street vendor): €2-€5, depending on toppings
Fries & mayonnaise (from a street vendor): €3.50
Bars/Pubs With Great Beer:
---
Bruges Transportation Prices
Bruges is small and very walkable, so you shouldn't have to budget anything for transportation unless you plan on renting a bike (about €10 for a full day). There is a bus service that costs about €1.50 per ride but it's doubtful you'd ever use it. 
---
Bruges Hostel, Hotel, and Rental Apartment Accommodation Prices
Accommodation in Bruges tends to run a little higher than a lot of other cities because there aren't many hostels and there aren't a ton of rental apartments or hotels. However, Bruges is basically tiny so most people only stay a day or two.
Hostels: €21-€26 (bed in a shared dorm room)
You should budget about €23/night per person for a decent hostel — although many hostels raise their prices on the weekend. Remember, these prices are for bed in a shared dorm room. If you want a private room, expect to pay €40-€79.
We book our hostels through Hostelworld.
Budget Hotels: €58-€110
At the low end, you shouldn't expect much but once you get around 80€/night, the hotels get a bit better (think Super 8 or Motel 6). A room with a private bathroom and a twin bed will be around €58-€80, and a double bed will be €72-€100. Check out hotel prices at Booking.com.
Rental Apartment: €90-€165+
Rental apartments tend to be bigger than similarly priced hotel rooms. Plus, you'll get a kitchen so you can save more money by cooking your own meals. Furthermore, if you're traveling in a group, it can often be cheaper per person to rent a single apartment. That said, be sure to add in the extra service fees and cleaning fees. 
Learn More About European Travel Costs
Check out our guide to the Cost of Backpacking Europe (including more city price guides).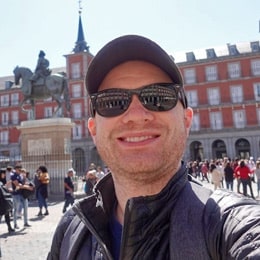 No Funny Business
The Savvy Backpacker is reader-supported. That means when you buy product/services through links on the site, I may earn an affiliate commission — it doesn't cost you anything extra and it helps support the site.
Thanks For Reading! — James
Questions? Learn more about our Strict Advertising Policy and How To Support Us.