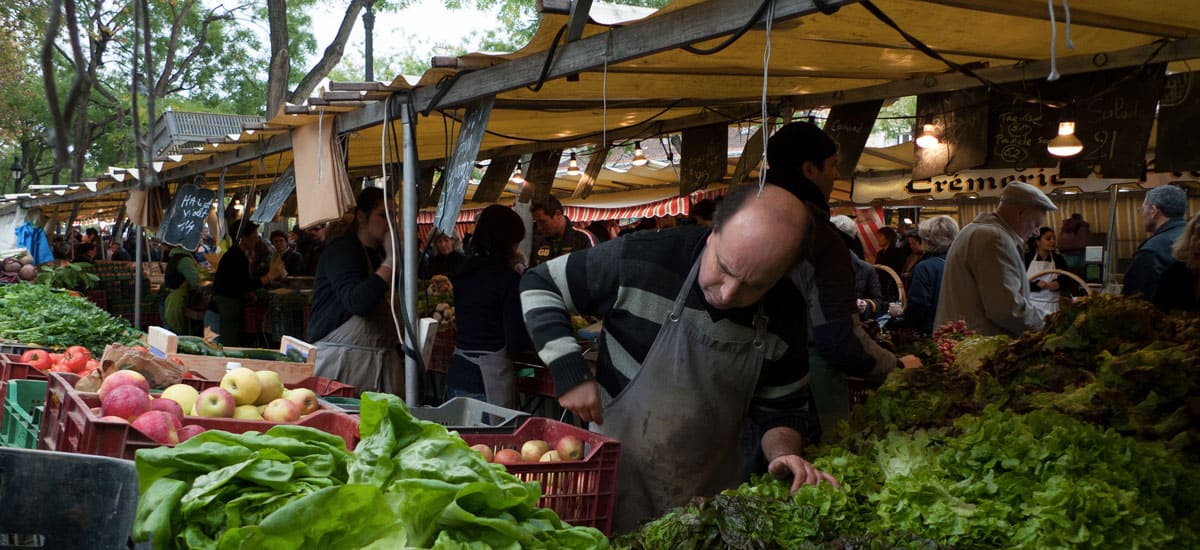 One of the great things about Paris are the abundance of Farmers Markets and Market Streets — maybe it has something to do with the fact that Parisians can only fit one or two day's worth of groceries in their tiny refrigerators.
Markets are perfect places to buy fresh fruit and vegetables, cheese, meat, baked goods and other speciality foods. If nothing else, it fun to visit one just to experience the sights and sounds of a living and breathing city — and to grab a cheap lunch.
Best Farmers Markets in Paris
Most Farmers Markets are open one or two days a week. They set up early and are normally open until early afternoon. There are multiple markets in every Paris neighborhood but here are a few of our favorites:
Marché Bastille
The biggest and best open air market in Paris — with over 100 stalls selling just about anything you can imagine. And on Saturday local artist set up and sell their works (there is no food though).
Boulevard Richard Lenoir, 75011
Thursday, 7am-2.30pm // Sunday, 7am-3pm.
Marché d'Aligre
A true neighborhood gem that's been open since 1866. It's actually two markets — Marché d'Aligre in open air and Marché Beauvau is covered. These bustling and energetic markets sell a wide range of quality goods at good prices. This is a must visit for foodies.
Place d'Aligre, 75012
Marché d'Aligre —Open: Tuesday-Saturday 8am-5pm // Sunday 8am-1pm
Marché Beauvau — Open: Tuesday-Friday 9am-1pm & 4-7:30pm // Saturday 9am-1pm & 3:30-7:30pm // Sunday 8:30am-1:30pm
Marché St-Quentin
Dating back to 1866, this vibrant covered market is one of the oldest in Paris. It's located in a traditionally immigrant neighborhood so you'll find lots of Italian, African, Portuguese, Asian, Moroccan, Lebanese, etc. specialities along with normal French market fare.
85 bis boulevard Magenta, 75010
Tuesday-Saturday, 8am-8pm // Sunday, 8am-1.30pm.
Marché aux Enfants Rouges
Hidden away behind nondescript metal doors in the Marais, this maze of a market is the oldest covered market in Pairs. In addition to fruit, vegetables, cheese, bread and flowers, you'll find that this market specializs in ready-to-eat meals from just about all parts of the globe.
39 rue de Bretagne, 75003
Tuesday-Friday, 8.30am-1pm & 4-7.30pm //Saturday, 4-8pm // Sunday, 8.30am-2pm
Marché Raspail
Raspail is known for its Sunday organic market. The goods at this super trendy market are top notch but that also means you're going to pay top dollar (or euro).
71 Boulevard Raspail, 75006
Tuesday and Friday, 7.00am-2.30pm // Sunday, 7.00am-3.00pm
Batignolles Market
This all-organic market is super popular with locals thanks to its great quality goods straight from the farmer/producer.
34 boulevard des Batignolles 75008
Saturday, 9:00am-3:00pm
Place Monge Market
Located in the heart of the Latin Quarter, Marché Monge is a 40 stall market selling meat, fish, fruit and vegetables, organic produce, cheese, wine, flowers, and more
Place Monge, 75005
Wednesday and Friday, 7am-2.30pm // Sunday, 7am-3pm.

Best Market Streets in Paris
Markets Streets are usually pedestrian-only streets lined with multiple specialty foods shops and vendors. Most are open multiple days a week but some of the shops may close for a day or two during the week.
Rue Montorgueil (2nd M° Etienne-Marcel or Sentier)
This street in the 1st arrondissement and 2nd arrondissement is lined with restaurants, cafés, bakeries, fish stores, cheese shops, wine shops, produce stands and flower shops. Open daily.
Rue Daguerre (14th M° Denfert-Rochereau)
This market street is pedestrian-only so it's a great place to casually stroll while you people watch and check out the goods. Open Tuesday-Sunday, food market stalls are open on Sunday.
Rue Cler (7th M° Ecole-Militaire)
Rue Cler is arguably the most famous market street in Paris — it's certainly one of the largest. If you're in the 7th arrondissement you should most certainly stop by. Open Tuesday-Saturday
Rue Mouffetard (5th M° Censier-Daubenton or Place Monge)
One of the most picturesque market streets that has become a popular destination for tourists.  Located in the 5tharrondissement. Open Tuesday-Sunday morning
SUPPORT THE SAVVY BACKPACKER — IT'S EASY!

We hope you've found this article helpful. If you have, the best way to say thanks is by clicking on our Amazon.com links.

We get a depressingly small commission when you purchase anything on Amazon after you've clicked the link — this helps us keep the site running… & maybe buys us a few beers.

 Plus, it doesn't cost you anything extra! If you're a student don't forget to sign up for a FREE year of Amazon Prime.
Thanks for all your support & click here to learn more about supporting us!