Denmark Travel Guide
Denmark part of Scandinavia. The main part of Denmark is Jutland (a peninsula located to the north of Germany) but it also consists of multiple islands (the biggest are Zealand and Funen).
Climate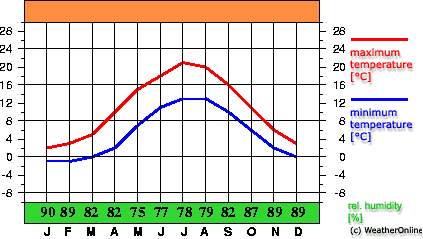 Denmark has a mild climate and it tends to be fairly wet and rainy because it is located on the coast. Denmark has cool summers with an average temperature of 66°F (19°C) and fairly cold winters with an average high of 34°F (1°C).
Major Cities
These are the nine regional centers in Denmark:
Copenhagen (København) — Denmark's capital and its largest city. Copenhagen is a vibrant metropolis and it has a lot to see and expereince.
Aarhus — Denmark's second largest city and the main city of the Jutland peninsula. Famous for its historic open air museum.
Aalborg — Has a picturesque city centre and the Jomfru Ane Gade—where you'll find some of country's best night life.
Esbjerg
Herning — A nice entry point to see the beaches of Jutland's western coasts.
Nykøbing Falster — nestled by a picturesque fjord, you can explore the old abbey, the castle, or set out to the spectacular chalk cliffs of Møn or the islands good beaches.
Odense —  Home to Egeskov Castle_one of the best-preserved Renaissance castles in Europe.
Rønne
Sønderborg
Airports
Denmark has two major airports but most international flights are through Copenhagen Airport.
Copenhagen Airport is the largest airport in Scandinavia. The airport is actually located in a town about 8m from Copenhagen but there is a train every 10 minutes which connects the airport and Copenhagen's Central Train Station (one way ticket costs  27 DK). The airport also has multiple trains to other cities in Denmark and Sweden.
Billund Airport is located in southern Jutland and is Denmarks second largest airport. It has flights to many of major cities in Western Europe. There is bus service to many western European capitals
Aalborg Airport is Denmark's third largest airport and it has flights to about 20 European destinations.
Aarhus Airport 44 km north east of Aarhus. Shuttle bus from the airport to the Aarhus Central Station.
Malmö-Sturup Airport is 61 km from Copenhagen. The budget airline, Wizzair offers cheap flights to Eastern Europe. There is a shuttle bus from Copenhagen Central Station to the airport that costs 100DK.
Domestic Train Travel
There are a few train companies in Denmark but the main is the Danish State Railways (DSB). Danish trains are modern and comfortable but train travel is expensive.
EUrail passes are valid on all DSB trains but DSB does offer a heavily discounted ticket  for non-raill pass holders called an Orange ticket. These sell out quickly but you should ask anyways. Check out Rejseplanen.dk to find train prices and purchase tickets.
Ferry Travel
Denmark has a ton of small islands and the best/only way to discover them is by ferry. There are 55 ferry routes and the main carriers are Nordic Ferry and Mols Linien.
Car Travel
Touring around Denmark is a great way to see the country and the roads are all well-maintained. There are a few nice scenic roads that are very enjoyable.
Driving in/around any major city is very difficult and isn't recommended.
Car rentals are notoriously expensive in Denmark so it is recommended to rent one form Sweden and drive over the boarder—this will save you around 50%.  Don't forget to check for hidden charges that common in most of Scandinavian countries.
Money Matters
Denmark is an expensive country. All consumer goods/services have a 25% sales tax (the tax is already included in all displayed prices). Eating out and alcohol can also get expensive. Don't be surprised to see a print of beer for $7-$8 at a restaurant/pub.
Food and Eating
Eating out in Denmark is be pretty expensive. Check out kebab shops and pizza stands for a budget meal.
Traditional Danish meals are seafood heavy—expect lots of herring. Hearty meat (usually pork) dishes are also popular.
A traditional Danish hotdog is tasty and fairly inexpensive.
Wherever you end up eating, try to avoid touristy restaurants. If the menu is in multiple languages you should generally avoid it.
Alcohol
The main beer of Denmark is Carlsberg but there are a few microbrews available.