Austria Travel Guide
Austria is a Central European country that offers everything from beautiful mountains to world-class architecture and museums. It is known for some of the best skiing in during the winter and hiking in the summer months.
Neighbors:
Switzerland, Liechtenstein, Germany, Czech Republic, Slovakia, Hungary, Slovenia and Italy
Climate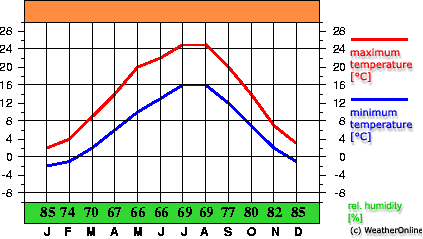 Type of Climate: Temperate continental.
Summers: June to mid-September with temperatures averaging around 25° C (77° F) but a few days will reach 35° C (95° F).
Winters: December to March with cold temperatures in the lowlands and harsh conditions in the Alpine regions where the temperatures regularly drop below below -10° C (14° F). Expect large fluctuations in the temperature in the mountains.
Popular Cities
Vienna (Wien)
Bregenz
Eisenstadt
Graz
Innsbruck
Klagenfurt
Linz
Salzburg
Villach
Passports and Visas
Austria is a member of the Schengen Agreement.
Air Travel
There are six airports in Austria and the biggest is in Vienna. Vienna Airport has connections to many of the world's major airports. The smaller airports (Graz, Innsbruck, Klagenfurt, Linz, and Salzburg) will have flights to mainly other European countries. Most budget airlines fly out of these smaller airports.
The airport in Munich, Germany is easily accessible to much of Austria and usually offers cheaper flights to much of Europe.
International Train Travel For Austria
Austria is very well-connected by train and has multiple daily trains to neighboring countries. In fact, most neighbor countries have trains at least hourly and the Czech Republic, Hungary, Germany, Slovakia, Switzerland have multiple trains every hour. There are high-speed trains to most major cities in the region.
ÖBB (the national rail service of Austria) offers a limited number of discount "SparSchiene" tickets to and from popular destinations like Croatia, Denmark, Germany, Italy, Netherlands, Poland, Serbia, and Switzerland for a flat-rate (i.e. €29 for a one-way seater, €39 for a couchette or €59 for a sleeper). It is also advised to book in advance during popular travel periods. There are also various special offers to all Eastern European countries so check the ÖBB website.
Domestic Train Travel in Austria
Austrian cities are all well-connected by train so the train is easily the best way to travel throughout the country.
All domestic train tickets are priced based on the distance traveled so it doesn't matter when or where you purchase them. Tickets can be ordered online at the ÖBB website or purchased at the station.
Train Discounts
VorteilsCard cost €19.90 for people under 26 (€99.90 for anyone over 26) and gives you 45%-55% (buy from a machine or the internet for the biggest discount) off any domestic rail ticket and 25% off of cross-border trains in Europe (Card is valid for one year).
Basically, the VorteilsCard is a good deal if you plan on spending more than €40 on train tickets while in Austria.
This special ticket costs €28 and is good for any group of 2-5 people. It is only valid on slower regional trains but it is a cheap way to trave..
If you want to visit during the summer and are under 26 you should buy a Sommerticket. It is good for unlimited travel on any train for the month of July and August. It only costs 39€ (20€ for the Vorteilscard and 19€ for the ticket—buy them together at the ticket counter)
Car Travel in Austria
Rural Austria is easy to explore by car and many popular mountain destinations are only accessible by car/foot/skis. Driving in the country can be relaxing because the roads are generally in good condition and are not congested.
Driving in major cities is generally not recommended because it is expensive and congested.
Expect to pay tolls for all major motor-ways.
Money Issues
Prices
Prices in Austria are comparable to those in Western Europe. Like most European countries, the sales tax is included in the price of goods/services. Also, expect to pay extra in touristy areas.
Shops
Shops are normally open from 8AM to 7PM from Monday to Friday and Saturday from 8AM to 6PM. Most shops are closed on Sundays but there will be a few convenience stores, shops at railway stations and restaurants open Sunday.
ATMs
ATMs (usually called Bankomat) are wide-spread throughout Austria. Austrian ATMs don't change fees (but your bank might).
Food and Eating in Austria
Austrian food is hearty and delicious. Here are some traditional Austria dishes:
Wiener Schnitzel (a bread-crumbed and fried veal) is a national dish.
Knödel are a kind of dumpling which can be made either sweet or savory according to taste.
Tafelspitz (boiled beef with potatoes and horseradish) is traditional Sunday meal served on Sundays.
Apfelstrudel and other delicious pastries/desserts are plentiful in much of Austria.
Bread is considered an art in Austria and you'll find bakeries in pretty much every town and village. Seek it out.
Desserts
Strudel: A layered pastry with a — most often sweet — filling inside, often served with cream.
Sachertorte: A is chocolate torte  filled with apricot jam and covered with chocolate icing. Best when served fresh with cream.
Malakhoff: A delicate cake.
Manner Schnitten: A wafer cookie that are all over Vienna.
Milchrahmstrudel: milk and curd cheese struedel, served warm
Powidl: Savory prune jam with alcohol.
Restaurants
Traditional Austrian food at reasonable prices can be found at a Gasthaus or Gasthof. Go for lunch for the best price. Expect to pay about €5-7 (more in tourist areas) for a meal that includes a main dish, soup and maybe a dessert.
Don't forget the tip about 5%-10%.
Alcohol and Other Drinks Popular in Austria
Vienna is famous for its cafes and you'll find them all over the city (as well as other cities). Try the coffee, hot chocolate and the famous Sacher-Torte.
Austrians love their beer so you'll find many high quality beer throughout the country. Each region has their speciality so sample the local brew.
Austria is also know for producing many very good wines—mostly whites. Many people mix their wine with mineral water (called a Spritzer).
Schnaps: A type of fruit brandy served in many parts of Austria and it comes in a variety of flavors (ear, apricot, and raspberry are the most popular). You'll find three qualities of Schnaps: distilled, infused, and flavored.  Distilled is the best but it can be expensive. Flavored is the lowest quality and is found at supermarkets.
Eiswein : A dessert wine produced from grapes that have been frozen while still on the vine. Eiswein is usually expensive.
Almdudler is a national soft drink of lemonade and herbs.
Safety & Well Being in Austria
Austria is extremely safe and violent crimes are very rare. Vienna is in the top 1o safest cities in the developed world.
Like most cities in Europe, pickpockets are located in crowded areas but can be avoided with common sense.
Austrians love riding their bikes so be sure to keep off the bike paths (unless you're on a bike). Walking on the paths is considered rude and you'll probably get hit by a biker.
Respect and Culture
Austrians don't like to be compared to Germans so they may take offense to any claims.
Don't make Nazi references. Austria has very serious laws that bring up to 10 years in prison and a €21,600 fine (tourists are not immune to the laws).