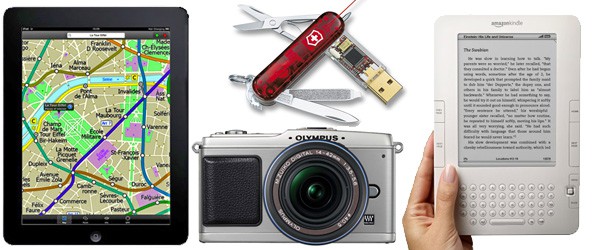 There is no doubt that electronics play a huge part in our lives, so it is no surprise that electronics have become an essential part of travel. Between iPods, iPads, digital cameras, laptops, cellphones, and video cameras the choice of what electronics to bring on your backpacking trip can get overwhelming.
This guide will not only explain what electronics are available but also how to get the most out of them.
European Plug Adapters & Voltage Converters :: Free Wi-Fi :: Digital Cameras :: iPad/iPhone :: MP3 Players :: Laptop/Netbook :: USB Flash Drive
European Electronics Basics
North America and Europe have different electrical outlet configurations and use different voltages. North America uses 110 volts and Europe uses 220 volts. Whats does this mean? Basically, if you plug in a North American electrical device into a European outlet your electronics will fry. Most higher-end electronics (laptops, digital cameras, mp3 players, etc…) have built-in voltage adapters so the voltage difference doesn't matter. Cheaper electronics (hairdryers, curling irons, etc…) don't have a built-in voltage adapter.
How to Check The Voltage of Your Electronics
Your electronics will display the voltage in which your device operates. It will be printed near the plug or on the power brick.
Left – This is the power brick on my Macbook. The voltage is rated between 100-240. Since Europe runs on 220V this device will work in Europe.
Right – This device (electric shaver) is rated 120V so it wouldn't work in Europe.
Voltage Converter: You can buy a voltage converter that converts 220V to 110V but they are usually expensive, bulky, and heavy. The converters are also known to malfunction and fry your electronics anyways.
Special Note About Dual Voltage Appliances — You can buy a dual voltage hair dryer/hair straighteners, but they usually don't work well.  Often you'll only get 50% of the power (i.e. it will take 25 minutes to dry your hair). It is better to just buy a cheap new hairdryer in Europe.
European Plug Adapter:
North America and Europe use different plug configurations (The UK has their own too). You will need a plug adapter to be able to plug your electronics into European outlets. These adapters will NOT have any impact on voltage — they simply change the plug style.
WiFi In Europe
Free WiFi isn't nearly as prevalent in Europe as it is in the US. Most hostels and some hotels offer free wifi to their guests. There are a number of cafes that are starting to offer free WiFi. I believe you can get internet at McDonald's if you buy something. There are bound to be some people who leave their personal wireless internet unprotected, so that is always an option. Check out wififreespot for a huge list of free WiFi spots.
Digital Cameras For Europe
I've created a more in-depth guide to picking the perfect digital camera for backpacking in Europe.
Castles, architecture, stunning countryside, monuments, art, and beautiful people — there so many amazing things to take pictures of in Europe. I think a camera is one of the most important things you'll bring with you. My photographs are my most cherished "souvenirs" from my travels. Here are a few things you'll want to think about when choosing a camera for your European journey.
iPad, iPod & iPhones
Devices like the iPad/iPhone are going to completely change the way people travel. The things these devices can do are pretty amazing. You don't even have to plan your trip ahead of time anymore. You can simply arrive at a new city and find great things to see within minutes. There are already many great apps available and this industry is still in its infancy. Some of the things these apps can do include:
Check out our guide to the best travel apps.
Never Get Lost: Use GPS and/or GoogleMaps to guide you to your destination. This is huge. European cities are extremely complex and it really is quite difficult to find a specific location. Most of the time you're only given an address so finding it on a map can be a challenge. On my last trip, I went online and found some really cool bars that were not overrun with tourists. I spent a long time trying to find the street on the map. Then I would travel to the bar, but could never find it. I've wasted a good amount of time trying to find interesting places to visit but having something like an iPad would have really made my trip much more enjoyable.
Subway Maps: Maps of every subway system can be downloaded so you won't have to worry about getting on the wrong train. Also get live outage updates.
Restaurant Recommendations: Finding a place to eat is often a great cause of stress — especially when you're on a budget.
Audio Tour Guides: There are many high-quality audio tour guides of most major European cities. This allows you to learn about the cities on your own time.
Museum Tour Guides: Learn about the history of your favorite works of art at many famous museums without all that pesky reading.
Digital Guide Books: Many major guide books can be downloaded straight to your mobile device. This allows to you pick and choose the chapters that are most interesting to you.
Alternative Guide Books: There are many little restaurants/shops/attractions that only locals know about. It is easy to find these places online through your mobile device and then it is even simpler to get directions.
Language Phrasebook Apps: Find out how to ask for a Big Mac, large fries, and a Coke in any language.
Currency Converter: Find out exactly how much that souvenir t-shirt is going to cost.
Cheap International Calls: Call your parents for cheap.
Book Flights Online: Last minute travel plans? Easy.
Replace Physical Books: No need to carry around heavy books because many are now available digitally.
I love having music with me when I travel. It really helps pass the time during long train/plane rides. I recommend the iPod Touch because it allows you to take advantage of all the apps too.
Laptops & Netbooks
I see more and more backpackers traveling with their laptops. Personally, I would never bring a traditional laptop because they are heavy and they take up a lot of room. I might consider a netbook because they are much smaller/lighter. If you really want a computer I would get an iPad, without question.
Flash Drives & Portable Hard Drives
I like to put all my important information on a USB flash drive (flight info, scan of passport, hostel confirmation info, important numbers, etc).  I can then just throw it in my bag and forget about it. If you really want to save space get Swiss Army Knife w/ USB flash drive.
Support The Savvy Backpacker - It's Easy!
We hope you've found this article helpful. If you have, the best way to say thanks is by clicking on our Amazon.com links.
We get a depressingly small commission when you purchase anything on Amazon after you've clicked the link — this helps us keep the site running… & maybe buys us a few beers.
 Plus, it doesn't cost you anything extra!
Thanks for all your support & click here to learn more about supporting us!