While I still love the camaraderie and excitement that comes from staying in hostels, my wife and I are increasingly finding ourselves preferring to stay in private apartments when we travel. My go-to vacation apartment rental service is Airbnb.com (get $35 credit when you use this link to make your first booking!). I've previously written about the benefits of short term apartment rentals, but this guide will focus specifically on Airbnb. We've rented apartments in Paris, Marseilles, Montpellier, London, Amsterdam, Berlin, and Budapest — and each experience has been great. In this review, I'll go over our experience finding, booking, and staying in apartments that we rented via Airbnb.com.
Quick Overview of Airbnb
Airbnb is a worldwide 'peer-to-peer' marketplace for travelers to rent apartments and other accommodations from individuals — usually at rates much lower than a hotel. Hosts can choose to offer anything from an entire apartment to just an extra room or couch. I've only experienced renting an entire apartment, but budget travelers can save a lot of money by choosing one of the latter options.
I've discovered that the type of people who rent out their properties tend to fall into a few categories:
Full Time Renter: These hosts have an extra property that they use exclusively as a rental property. These properties tend to be the best quality since these renters tend to treat this as a side business. I'd say that a large number of hosts on Airbnb tend to fall into this category.
Part Time Renter: These hosts might live in their apartments during part/most of the year and then rent it out when they go away on an extended vacation or business. The apartment might have some of the host's personal items in the apartment (food, clothes, etc.), but I've always found that the hosts pack away their stuff so the renters have plenty of space for their things.
Infrequent Renter: These hosts offer their apartment randomly throughout the year for various reasons.  We rented from one host in Paris who would go stay with her parents whenever someone wanted to stay in her apartment. She used the rental money to pay for a large chunk of her own rent. She put her clothes away in a closet but left the apartment pretty much how she lives in it (although she did clean up and made it tidy). She had a party a night or two before we arrived, so she had a ton of extra alcohol (wine, beer, and hard liquor) leftover and she told us to take all we wanted.
Room Renters: Not all hosts rent out their full apartment. Many hosts will simply rent out an extra room in their home or apartment. While you'll get a private room, you'll often have to share a kitchen, bathroom, and living space. This option is usually pretty affordable and the hosts might cook you a meal or offer to show you the city (depending on their schedule).
Couch Renters: If you don't mind not having privacy, the cheapest option is simply renting a couch. Hosts who rent their couch are usually pretty sociable people, so there is a good chance they'll show you around town or take you out at night for drinks.
No matter who you rent from, it is important to remember that you're renting apartments from individuals, so the properties are "lived in." Don't expect this option to be like staying in a hotel. I think this is actually a positive thing because this way you'll get to stay in a cool and often 'quirky' apartment that has much more character than a cookie-cutter hotel or hostel.
Why I Love Airbnb
Safety and Trust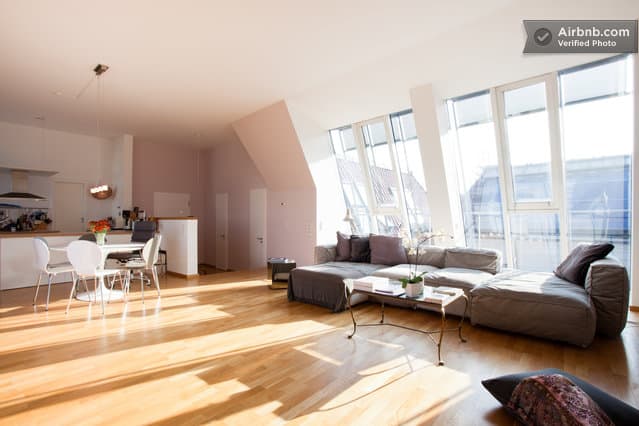 It is understandable that some people would be a little wary about renting an apartment from someone who lives across the globe, but Airbnb has done a great job of making it as safe as possible. First, they require that each host submit official IDs, phone numbers, photos, and a few other safeguards to ensure everything is on the up-and-up.
Additionally, all payments are performed through Airbnb's system, so you don't have to worry about giving your sensitive information to a stranger. Airbnb takes your safety a step further by not releasing the rental funds to the host until 24 hours after you check into the apartment. This way you don't have to worry about being scammed — which is usually people's biggest concern.
Another great benefit of using Airbnb is their 'verified photos' feature. Airbnb will actually send out one of their own photographers to photograph the apartments. This way you'll have an accurate representation of what the apartment looks like.
User Reviews
I put a lot of trust in past renters' reviews, and Airbnb does a nice job prominently featuring guest reviews. I tend to only book apartments that have multiple positive reviews. Be sure to read through them to see how the host handled any negative situations that may have arisen.
Up-To-Date Calendar and Host Information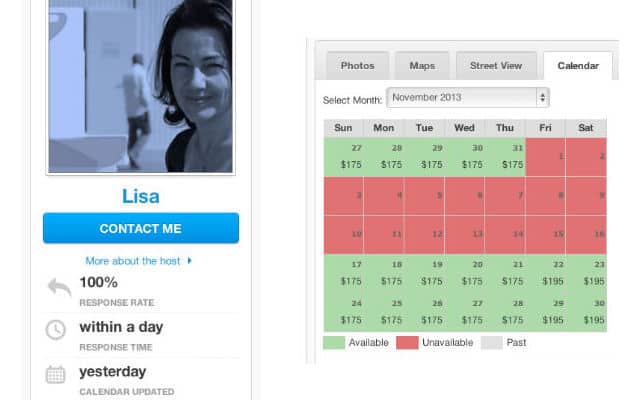 One of the most frustrating things about searching for an apartment online is knowing if the host's calendar is updated. When I've used other services, I would often discover all the apartments I requested were booked even though the calendar on their site said they had availability. Airbnb does a good job of making sure their hosts keep their calendars updated.
When you look at a listing, you'll see a photo of the host, their response rate, how long it usually takes them to respond to a rental request, and the last time they updated their calendar. The calendar is updated every five minutes, so you'll save yourself a ton of time and loads of frustration.
Street View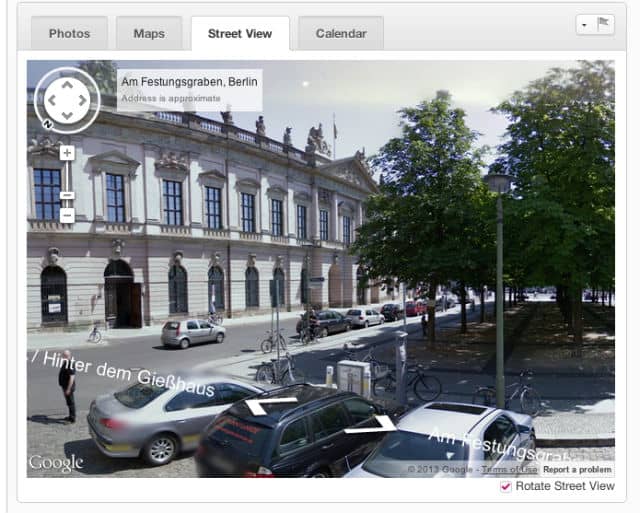 For safety reasons, Airbnb doesn't reveal the exact address of the apartment, but they will usually show a cool 360 degree Google street view of the property's street. This is nice because you can often get a better feeling for the neighborhood after seeing photos.
Neighborhood Guides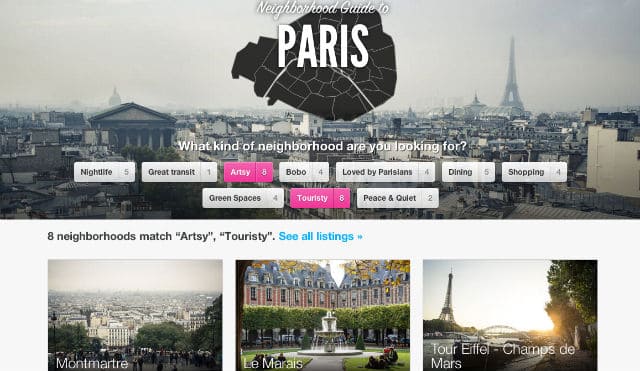 Every neighborhood within a city has its own personality, so choosing the right neighborhood can be a daunting task — especially if you're not familiar with the location. That's why I love Airbnb's new Neighborhood Guide. At the moment, they only have guides to a few major cities (Austin, Bangkok, Berlin, Boston, Buenos Aires, L.A., London, Miami, New York, Rio, Paris, Rome, San Francisco, Venice, and Washington DC), but these guides do an amazing job of giving you a feel for each area. (I believe they're adding new cities in the future.) I really like that they hired local professional photographers to capture the essence of each neighborhood — the photographs are amazing.
You can choose between neighborhoods known for their great nightlife, shopping, art scene, restaurants, or a range of other attributes. Their Paris Neighborhood Guide is pretty much spot-on with their descriptions, so I'm sure their other guides are just as good. I also like how they outline the neighborhood on top of the city map — this lets you visualize unfamiliar cities much more easily.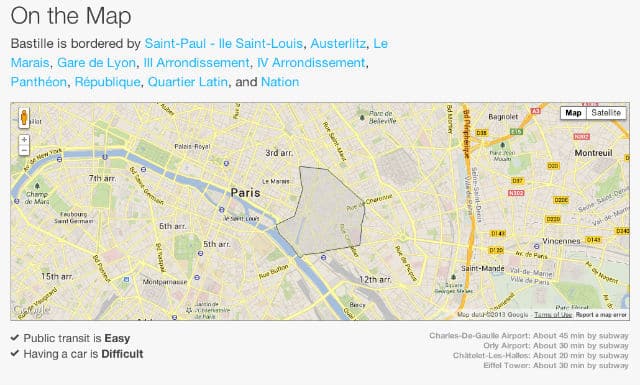 As I mentioned above, the photography for these guides is amazing. They've chosen images that truly reflect the unique feel of each area. And they don't just focus on the major sites. They capture little moments of the locals' daily lives — from streets and restaurants to cafés and parks. Here are a few shots, but I urge you to check out the guides for yourself (photos courtesy of Airbnb).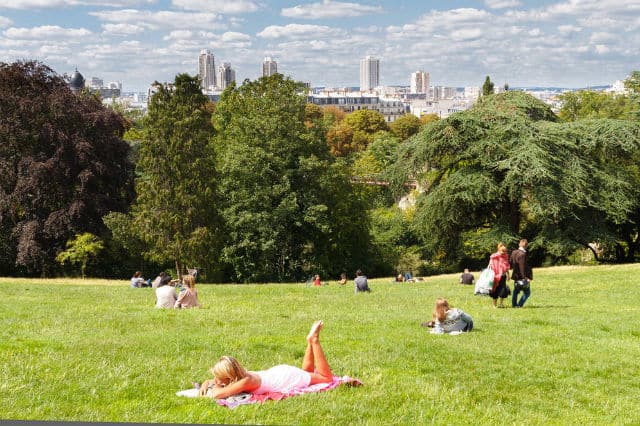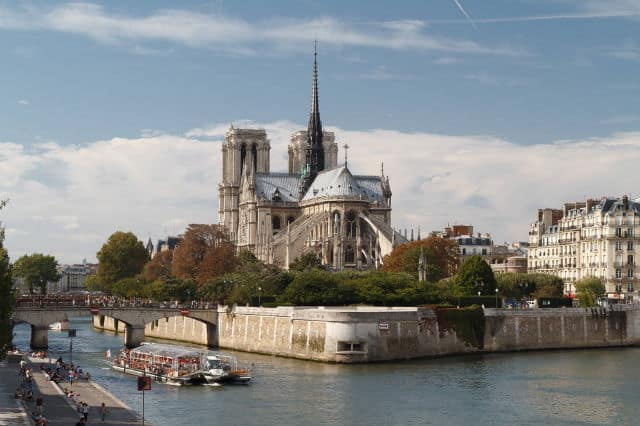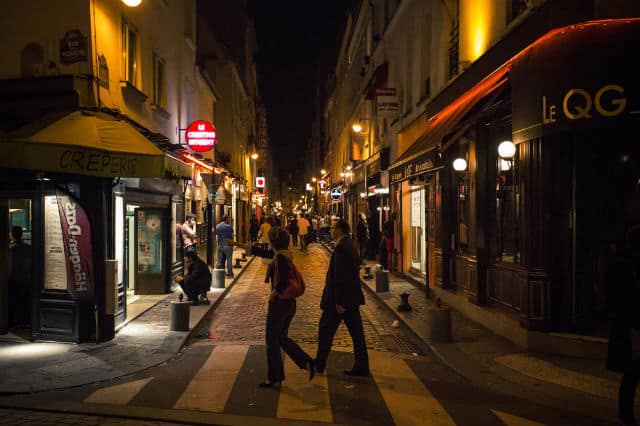 At the end of each Neighborhood Guide, there are popular apartments located in the neighborhood listed so you can ensure you're renting in the exact neighborhood that you want.
Authentic Experience
The best way to feel like a local and truly experience a city is by living where the locals live — you'll never experience this in a hostel or a hotel. Staying in an apartment allows you to easily shop neighborhood shops and markets, dine away from the tourists, and feel much more connected to your environment.
Easy Booking
Airbnb's booking system is pretty straightforward and painless. Once you've found an apartment that works for your dates, you put in a request for the apartment. The host has 24 hours to either accept or reject your booking. If your request is rejected, nothing is charged to your card. If the request is accepted, your credit card is charged for the full amount, including an Airbnb service fee. Your host doesn't receive the money until 24 hours after you check in to the rental.
Before you book, make sure you read the host's policies on cancellation, cleaning fees, and other rental requirements. All this information is prominently displayed, so be sure you take a look.
Once the apartment is booked, the host will contact you with all the logistics for getting to the apartment, showing the property, and receiving the keys.
Potential Problems or Inconveniences with Airbnb
Booking Response Time — Sometimes Airbnb isn't ideal if you're looking to book an apartment ASAP because there is often a bit of back-and-forth between you and the host when booking. Many hosts will respond to your request quickly, but some might take a day or two to respond. And then you have to figure in the time difference — which can also cause a delay. This can be frustrating in our instant gratification society. But some hosts do offer an instant booking option, so look for those if you're in a rush. 
Logistics — It can sometimes be a little difficult setting up a time to meet at the apartment or to hand off the keys. Sometimes you might have to wait for the host to arrive. Each time I've used this service, the host was already waiting for me at the apartment, but it really just depends on the host. A few times we had to coordinate via phone or text — which might be a problem for people who don't travel with a phone.  
Maintenance Problems — After working in Paris' rental apartment industry, I know firsthand about all the maintenance issues that plague old apartments. Heaters stop working, pipes leak, appliances break, neighbors have noisy apartment renovations, and a thousand other things can go wrong. It is fairly unlikely that something will happen, but it can sometimes be a huge hassle if something does go wrong. Most hosts will get the issue fixed right away, but what happens if your host isn't in town or can't address the issue in a timely fashion?
Not Good For Short Stays — If you're only staying somewhere for a night or two, it is probably better to just rent a hotel or stay in a hostel. In fact, most hosts have a three-night minimum stay since getting an apartment cleaned and ready for new guests takes a lot of effort. Again, this is all depending on the host's policies.
My Personal Experiences with Airbnb
As stated previously, I've used Airbnb multiple times over the past few years. I thought I would share a few of my experiences with you all.
Paris Apartment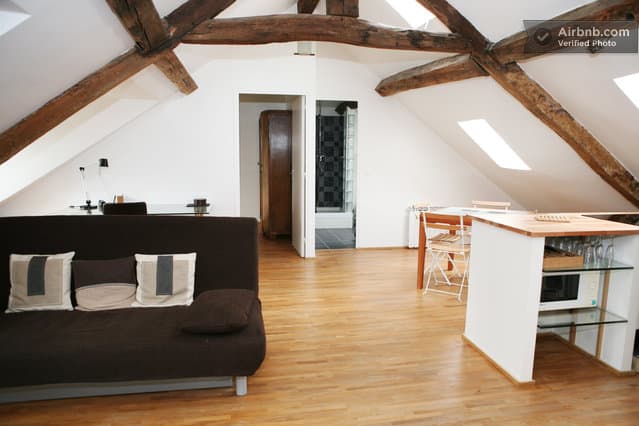 My parents and sister came to visit us in Paris, and I was tasked with finding an apartment for them. After a bit of searching, I found a great rooftop apartment in the Marais neighborhood. The owner of the apartment was super helpful and answered all our questions very quickly. I found out that he actually lives in the apartment across the hall from the rental unit — which is always nice if a problem were to arise.
And there was a problem — although it wasn't the host's fault. The airline lost my family's luggage and the host went out of his way to call the airline to schedule a time for them to drop off the bags.
The apartment was amazing and it looked just like the photos. Our host took the time to show us everything about the apartment and pointed out any quirks. The apartment had plenty of big windows and it offered nice Parisian rooftop views (I wish I could live there full-time). And the place was a great value at about $170/night — you'd probably pay double for a hotel room that size in Paris. You can view the apartment listing by clicking here.
Berlin Apartment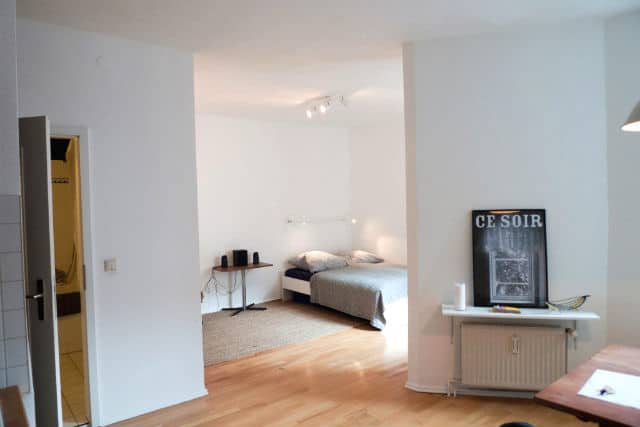 My wife and I were searching for an apartment in Berlin for about a week. Coming from Paris, we were pretty excited to see how cheap visiting Berlin was. We found this great apartment in the great neighborhood of Kreuzberg. This apartment was only $405 for the week — which we thought was a great deal (way cheaper than a hotel and probably the same price as a hostel).
Stephane, the owner of the apartment, was out of town when we arrived (ironically he was in Paris), so he scheduled to have his friend meet us at the apartment. She was waiting for us outside when we pulled up. She greeted us and took us up to the apartment. She showed us the place and explained how things worked. We got the keys and she gave us a little neighborhood guide that Stephane had written up — which had lots of good advice about the area.
The apartment was pretty minimalistic, but it had everything we needed for a comfortable stay. The property had two big windows that let in plenty of light. It was the perfect place to stay while visiting the city. If you're ever in Berlin, I highly suggest staying in Stephane's cool Kreuzberg apartment.
Conclusion
When you're planning your next trip, I highly recommend putting Airbnb at the top of your list for finding accommodation. Learn more about the benefits of renting a vacation apartment by reading my post on vacation apartment rentals in Europe. Don't forget to check out my traveling in Europe packing list for advice on packing for your journey.
Get $25 Credit For Your First Booking
Use this link and you'll get $35 free credit on your first booking! SWEET!
Support The Savvy Backpacker - It's Easy!
We hope you've found this article helpful. If you have, the best way to say thanks is by clicking on our Amazon.com links.
We get a depressingly small commission when you purchase anything on Amazon after you've clicked the link — this helps us keep the site running… & maybe buys us a few beers.
 Plus, it doesn't cost you anything extra!
Thanks for all your support & click here to learn more about supporting us!